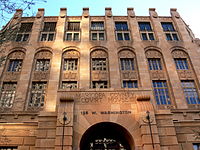 Thank you for visiting the Arizona Black Bar website.  We are an affiliate organization of the National Bar Association, the premier association for African-American lawyers in the country.  Please take some time to explore our website, and go to the "Become A Member" tab to join the ABB!
ANNOUNCEMENTS:
Arizona Black Bar meetings are held on the third Tuesday of every month at noon at Phoenix School of Law.  If you would like to learn more about the ABB and the benefits of becoming a member, please join us for a meeting!
To participate in person, the address is One N. Central Avenue, Room 1935, Phoenix, AZ  85004.
To participate by phone, the call-in number is (239) 332-3245, and the access code is 4614.
UPCOMING EVENTS:
2014 Hayzel B. Daniels Scholarship Award Dinner
The Arizona Black Bar is hosting its 2014 Hayzel B. Daniels Scholarship Award Dinner on Thursday, October 16 from 5:30 to 9:00pm at the Phoenix Art Museum.  The theme of the program is "Civil Rights 2014 — Closing the Opportunity Gap and Building Coalitions", and the keynote speaker is Connie Rice, co-founder of the Advancement Project, an organization that was created "to develop and inspire community-based solutions based on the same high quality legal analysis and public education campaigns that produced the landmark civil rights victories of earlier eras".
Tickets are $125 and can be purchased via PayPal by sending an email to arizonablackbar@gmail.com.  You can find more information at the Facebook event page: https://www.facebook.com/events/333087086863094/.  You can also download the form to purchase tickets and/or become a sponsor here: http://www.scribd.com/doc/239969189/ABB-Ticket-and-Sponsorship-Form-for-Hayzel-B-Daniels-Scholarship-Award-Dinner.