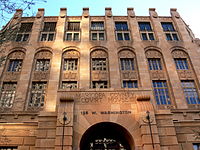 Thank you for visiting the Arizona Black Bar website.  We are an affiliate organization of the National Bar Association, the premier association for African-American lawyers in the country.  Please take some time to explore our website, and go to the "Become A Member" tab to join the ABB!
ANNOUNCEMENTS:
Arizona Black Bar meetings are held on the third Tuesday of every month at noon at Phoenix School of Law.  If you would like to learn more about the ABB and the benefits of becoming a member, please join us for a meeting!
To participate in person, the address is One N. Central Avenue, Room 1935, Phoenix, AZ  85004.
To participate by phone, the call-in number is (239) 332-3245, and the access code is 4614.
UPCOMING EVENTS:
Please check back for upcoming events!