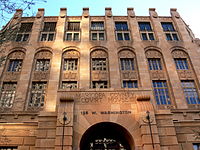 Thank you for visiting the Arizona Black Bar website. The site is undergoing renovations, but its key information will remain available to you pending the roll out of the new and improved webportal.
We are an affiliate organization of the National Bar Association, the premier association for African-American lawyers in the country.  Please take some time to explore our website and to go to the "Become A Member" page to join the ABB!
UPCOMING EVENTS:
The 2015 Hayzel B. Daniels Scholarship Award Dinner:
The Arizona Black Bar is hosting its 2015 Hayzel B. Daniels Scholarship Award Dinner on Thursday, October 22nd from 5:30 to 9:00pm at the Phoenix Art Museum.  The theme of the program is "Changing the Game: Sustainability in the Legal Profession."  The keynote speaker is Ms. Rose McKinney-James, one of the nation's foremost experts on solar energy. Ms. McKinney-James served as a member of the Obama-Biden Transition Team with responsibility for the U.S. Department of Energy and served as Team Lead for the Federal Energy Regulatory Commission (FERC). Ms. McKinney-James was the first African-American to win a statewide primary in Nevada during an earlier candidacy for Lieutenant Governor. She is currently the managing principal at McKinney-James & Associates and Energy Works Consulting, LLC of Las Vegas. To learn more of this dynamic individual, view or download the PDF announcement and attend the 2015 Hayzel B. Daniels Scholarship Award Dinner.
Tickets are $125. Early Bird Tickets are $100 if purchased before September 1st. Tickets may be purchased via PayPal by sending an email to arizonablackbar@gmail.com.
For tickets or sponsorship information for 2015, click here.
ANNOUNCMENTS:
The ABB proudly  announces the inaugural Excellence in Diversity Awards and the Call for Nominations. Click here for more information.

ABB MEETINGS:
Arizona Black Bar meetings are held on the third Tuesday of every month at noon at Arizona Summit Law School.  If you would like to learn more about the ABB and the benefits of becoming a member, please join us for a meeting!
To participate in person, the address is One N. Central Avenue, Room 1935, Phoenix, AZ  85004.
To participate by phone, the call-in number is (239) 332-3245, and the access code is 4614.